Landscape Services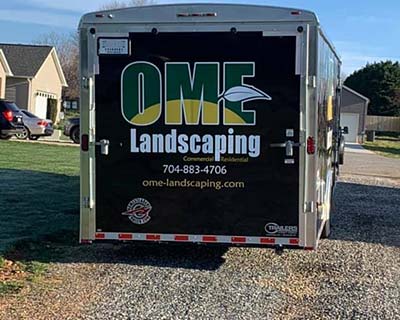 The beauty of your landscape depends on the features and materials you choose and the quality of the installation. It also depends on whether you have maintained these features well by hiring experienced landscapers for the job. Many different features and structures make up a well-balanced landscape. There are hardscaping and softscaping installations that go to create a cohesive and aesthetic landscape that is sustainable and long-lasting.
OME Landscaping Inc. is one of the most sought-after companies in the industry. With years of experience behind us, we have the skills, knowledge, and resources to handle a wide range of services, including landscape removal and installation. We are committed to providing our clients in and around Statesville, NC, with the best solutions and uncompromising service. Not only do we handle small-scale residential projects, but larger and complex commercial ones too. We offer a wide variety of landscaping services such as:
Landscape Removal & Installation
If you feel that your current landscape needs an uplift or even a complete change, we can provide high-quality landscape removal and installation solutions. As part of these services, we will assess the area, conduct excavation, and remove existing features. Once that is done, we will grade the land accurately before designing and installing the right kind of elements and structures. We handle start-to-end landscape design and planning services for our customers and can provide you with superior services within your budget. Our company offers landscape removal and installation services to residential and commercial clients and can manage projects of any shape and size. Read More About Landscape Removal & Installation >>
Trimming, Planting, Mulch
When it comes to landscape maintenance, there are various services that residential and commercial properties need. We offer trimming, planting, and mulching solutions and handle these jobs to industry standards. The shrubs, trees, and plants on your property need regular trimming to keep them healthy and free from infestations. If you feel that you want some new plantings on your property or need plants for a new landscape, we can handle the project for you. In addition to these services, we also provide mulch installation solutions. Organic mulches are a great addition to any yard or landscape. They add a pop of color, protect the soil and the plant roots while preventing soil erosion. Read More About Trimming, Planting, Mulch >>
Landscape Lighting
If you want to showcase the beauty of your softscaping and hardscaping, you need the right lighting features. As a full-service landscaping company, we offer high-quality exterior lighting services to both residential and commercial clients. Our team of experts can provide landscape lighting plans that will be right in line with your requirements and budget. We install a variety of lights, including floodlights, lamp posts, underwater lights, and more. The idea is to use the right lighting effects to highlight the beauty and decorative elements in your property's outdoor spaces. Landscape lights also improve the safety and security levels of a property, which is a distinct benefit. Read More About Landscape Lighting >>
Sodding & Seeding
There are two different ways of getting a lawn installation for your property- sodding and seeding. Since every property owner will have specific requirements, we offer both services. With the vast experience and knowledge that we have of landscaping, you can trust us to provide you with the best seeding solutions. If you have opted for sod, we will help you choose the right products and handle the installation to industry standards. Our team ensures that both tasks are completed in the best possible way so that you have lush and beautiful lawn spaces on your property within the shortest possible time. Read More About Sodding & Seeding >>
Paver Patios & Walkways
We offer high-quality paver patio and walkway design and installation solutions. Many residential property owners like to get a patio installed in the yard, and paver stones are a great surface material for these features. If you plan to install walkways leading out from the patio into your landscape, you can choose from a wide variety of pavers made of natural stone, concrete, or brick. These are available in a range of colors, styles, and designs, and we can create unique paver patterns and designs on your patios and walkways. Our company also handles commercial paver patio and walkway planning and installation projects and caters to these large-scale requirements skillfully. Read More About Paver Patios & Walkways >>
Grading
When it comes to maintaining the stability and sustainability of a landscape, various aspects need to be in place, and proper grading is one of them. No matter how well planned your landscaping is and how amazing your plantings and shrubs are, you will find yourself dealing with water accumulation problems without the right grading. Once the water starts pooling in the outdoor areas, it can damage not just the living features but also the hardscaping. We provide high-quality grading solutions and make sure that your property's outdoor spaces are leveled perfectly. If your existing landscape has flooding or water pooling issues, we can assess these areas' condition and grade the land as required. Read More About Grading >>
Snow Removal
If you have snow piling up in the outdoor areas of your commercial or residential property, it can become incredibly inconvenient and troublesome to move around. We provide reliable and safe snow removal and snow plowing services throughout the winter months. You can opt for a one-off service or a contract based on your specific requirements. We are prompt and proactive in our approach, use the latest technology and tools in our work. Our crew is highly trained and efficient, handling even the most challenging snow removal jobs. In addition to using mechanical equipment, we also use manual methods to remove snow from odd-shaped areas in a landscape. This thorough approach provides our clients excellent value for money. Read More About Snow Removal >>
Lawn Maintenance
Once you have a good quality lawn installation on your property, the next step is to ensure that it stays in good condition. That can happen only when you get lawn maintenance done by professionals like us. We provide comprehensive lawn care services to residential and commercial clients across the region. As part of these services, we handle fertilization, aeration, pest control, resodding, and overseeding. Our team of experts will also mow your lawns at regular intervals and ensure that the irrigation and drainage systems are working correctly. We use high-quality organic products in our work, and this helps maintain the health and condition of your lawns throughout the year. Read More About Lawn Maintenance >>
Retaining Walls
There are times when the outdoor spaces of property have incorrectly graded land or sloping land. Constructing any outdoor features or even landscape elements can become difficult without some amount of excavation. However, the excavated part needs some support, and that is where we build retaining walls. These walls can also be installed in landscapes that have soil erosion problems. We offer high quality retaining wall design & installation solutions, use the latest products in our work so that you have specially engineered robust features that provide the right kind of support and stability to your landscape. You can choose from retaining walls made of concrete blocks, natural stone, brick, and more. Read More About Retaining Walls >>
Excavation & Drainage Systems
A drainage system is a vital part of any landscape, big and small. While drainage systems need proper installation, the land would also need excavation before this job. We also excavate before the hardscaping elements are built in a landscaping project. No matter what kind of excavation and drainage systems you require, we can help. We have the equipment, training, experience, and expertise to tackle these jobs safely, efficiently, and cost-effectively for our clients. Residential projects have smaller excavation requirements, but we can also handle commercial projects where large-scale drainage features are needed in the landscaping. We plan all aspects of the excavation and drainage installations perfectly and you can be sure they will be robust and durable. Read More About Excavation & Drainage Systems >>
Many different services are needed as part of any new landscape installation or upgrade project. Since we offer comprehensive solutions, you can trust us to provide you with the services you require under a single roof. We use the best quality products and techniques, and you will have sound installations that are easy to maintain and last for a long time.
For any more information about our high-quality landscape removal & installation, call OME Landscaping Inc. at 704-883-4706. You can also send us your requests and queries through this Online Form, and one of our expert team members will call you to discuss your project details.